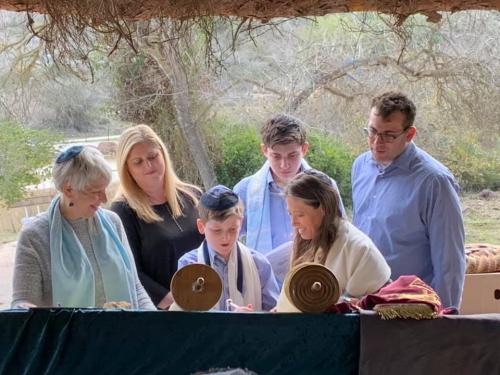 Thank you for your interest in B'nai Jehoshua Beth Elohim! We are a diverse congregation with about 1000 families, including many interfaith families. BJBE welcomes new members because we believe that each family/person brings talents, energy and perspective that enrich us.
BJBE offers dynamic, innovative programming to our members and guests. We provide an active community to those who wish to make a difference, a caring community to those less fortunate, and a nurturing community to those seeking connection.
Whether your interest is a Jewish education for your children, experiencing a variety of worship services, thought-provoking adult education, or repairing the world, we have activities to introduce those looking for a spiritual home to our community.
BJBE is open for tours (by appointment only). Contact Chime Costello for more information or to schedule a time: ccostello@bjbe.org, 847.940.7575
Ready to join? Contact Chime Costello for the membership packet or link to fill out your membership application online.
---
In the summer of 2019, BJBE transitioned from a traditional dues model to our Shared Sacred Partnership, a self-directed membership program that allows our members to determine how they want to support BJBE. Instead of paying assigned dues amounts, each household is given the freedom and responsibility to consider an annual commitment that is meaningful and affordable, and that will support BJBE's annual financial needs.
Download the informational booklet
Current members - fill out your commitment form online now
New members - fill out your commitment form online now

Please note: to fill out your commitment form online, you must be logged in to your ShulCloud account.