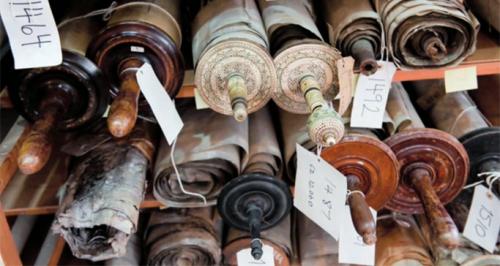 Congregation BJBE is the proud caretaker of two Torah scrolls that survived the Holocaust. To our community, these scrolls are much more than words on a page. These aged parchments, which carry the ancient stories of our tradition and heritage, are tender reminders of a painful past. These scrolls were lovingly read from by communities that no longer exist. These scrolls were studied by rabbis, students and seekers who perished in the Nazi concentration camps of World War II. These scrolls are the only reminders we have of once vibrant, robust Jewish communities.
On permanent loan from the London Memorial Scrolls Trust, the BJBE Holocaust Torahs are regularly used to teach our students, to inspire participants in our youth groups, and to connect our B'nai Mitzvot families to their living tradition.
Scroll #1484 is from the town Kolin, about 45 minutes outside of Prague in the Czech Republic on the Vltava river. Though a synagogue building still proudly stands in the city of Kolin, the Jewish community never returned after the horrors of World War II. The synagogue was lovingly restored in the early 2000's, and is used today as a community center and museum.
Since 1998, the BJBE Senior Youth Group has made regular journeys to the Czech Republic, not only to visit the synagogue that was once home to our Kolin Torah Scroll, but to also help clean the Jewish cemetery on the outskirts of town. Though basic cemetery maintenance is provided by Kolin, there is no Jewish population to bring K'vod (honor) to those buried there, and no one to provide a meaningful remembrance.
Scroll #564 is an orphan scroll. Some of the 1,564 Torah scrolls that were transported from Prague to London after the war had lost their identifying information. For BJBE, our orphan Torah scroll represents people around the world who have been left parentless through war, poverty or circumstance.
On the day Scroll #564 came to BJBE, it was brought to the chapel ark for temporary storage on a Friday morning. At the moment the Torah arrived, the BJBE Early Childhood program was using the room for services to welcome Shabbat. The children, parents and teachers were delighted to be in the chapel as the Torah arrived, and welcomed the Torah to its new home with joyous song and dance.
Though we don't know where scroll #564 came from or who it was used by, this orphan has now found a home.