Our Chava Center provides a safe, nurturing, and stimulating environment, thoughtfully designed to facilitate the social, emotional, physical, intellectual, and Judaic growth and development of our youngest learners. With a professional staff of lifelong learners who structure play-based learning opportunities based on research and best practices in early childhood education, we believe in a partnership with individual families, creating personalized experiences to best meet the unique needs of every child. At each age level, we offer options for attendance. Children can extend their experience by enrolling in early bird or lunch bunch programs. Additional on-site enrichment opportunities further extend the day and deepen children's explorations. Summer camp programming and tot-adult classes round out our programming options.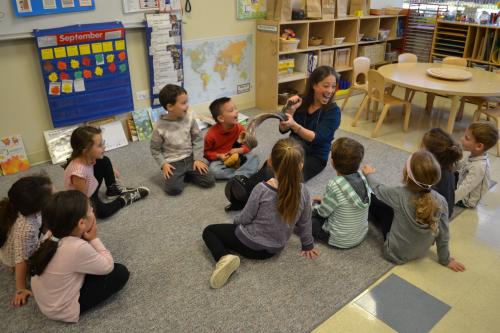 Tot-Adult Programs provide an opportunity for our youngest learners to explore while sharing time with the adults who love them. Programs are designed to meet the developmental needs of young children with opportunities for socialization and motor skill development within a fun, safe, and nurturing environment. New programs are added often. Contact Susie Wexler for a schedule of existing classes or to propose an idea for a class we should offer.
For an updated list of programs offered throughout the year, please visit the Program Offerings Page.
For registration information, please contact Susie Wexler or 847-940-7575.
JUF Right Start Program

​Learn more about our programs for families with young children >>