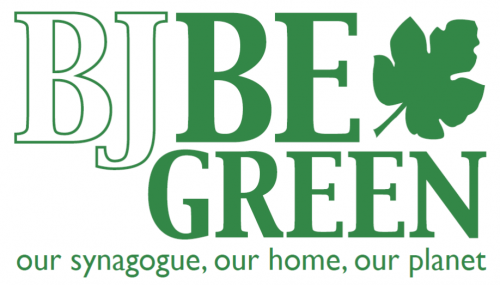 "When God created the first human beings, God led them around the Garden of Eden and said, "Look at my works! See how beautiful they are - how excellent! For your sake, I created them all. See to it that you do not spoil and destroy My world; for if you do, there will be no one else to repair it." (Midrash Kohelet Rabbah 1 on Ecclesiastes 7:13)

All of Creation is sacred and it is our duty to tend the garden. Together we must plan for generations to come by creating more sustainable practices and reducing wasteful ones.

Our Congregation is about to embark on an environmental initiative as part of a select cohort of URJ congregations in the two-year green certification program called GreenFaith. GreenFaith's mission is to inspire, educate, and mobilize people of diverse religious backgrounds for environmental leadership. We will educate our families to make green practices simple and easy. We will evaluate our congregation's practices, enhance our worship with ecological themes, pursue environmental justice through action and awareness, and communicate safe and easy practices that will help you to green your homes and family practices.

As an interfaith organization, GreenFaith invites us to create opportunities for programming with houses of worship of different faiths. Our co-chairs, Laura Singer and Todd Katz already have a strong base for the Green Team and are open to others interested and passionate about food, energy, water, waste, environment, and sustainable practice to join the effort. If you want to be a part of the team, please contact Laura Singer (ecolaura@mac.com) for info on our next meeting.

We are building towards an exciting two years with GreenFaith. Feel free to ask us questions and volunteer to be a part of the Green Team.