O Adonai, our God, let the words of Torah be sweet in our mouths, and the mouths of Your people Israel, so that we, our descendants and the descendants of all Your people Israel may know You by studying your Torah for its own sake.
Blessed are You, Adonai, who teaches Torah to Your people Israel.
-Mishkan T'filah
_______________________________________________________
At BJBE, life-long learning is a priority because it empowers us to make informed decisions about our Jewish lives, increases our Jewish literacy, adds substance and spiritual meaning to our lives, fosters Jewish autonomy and continuity, and builds our community.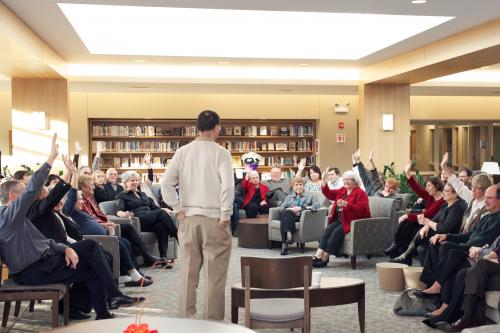 WEEKLY PROGRAMS AND CLASSES
SYMPOSIUM - THE STORIES WE TELL
Tuesdays | 10-11:30am | with Featured and Visiting Educators
Fall dates: 10/17, 10/24, 10/31, 11/07, 11/14, 11/28, 12/05, 12/12
"To know who we are is, in large part, to understand the story or stories of which we are a part. The great questions – "Who are we?" "Why are we here?" "What is our task?" – are best answered by telling a story." – Rabbi Lord Jonathan Sacks
This year's Symposium will be an exploration of Jewish stories: the narratives, storytellers, media, and tales that have shaped our people. And, through that study, we can gain a deeper understanding of who we ourselves are as well. As always, Symposium will be taught by some of Chicagoland's leading rabbis and teachers, along with our own BJBE clergy and educators.
TALMUD STUDY
Wednesdays | 9-10 a.m (Starting October 11th) | with Rabbi Goldstein
As one of the earliest rabbinic interpretations of the Bible, the Talmud is indispensable to understanding the laws and customs still practiced today. It is also a highly complicated body of literature that is best understood through conversation with each other. Our group meets on an ongoing basis throughout the year.
No registration needed – drop-ins are always welcome!
SUNRISE STUDY
Fridays | 7:30-8:30am (Starting October 6) | with Rabbi Sherman
Looking for a great way to start the day? Each Friday morning, we gather for a casual learning session. With Rabbi Sherman's guidance, we unpack and explore words of Talmud, as we sip coffee in a very informal, easy-going learning environment. Although the timing may be early for some, study is wrapped up in time to meet professional and personal commitments.
No registration needed – drop-ins are always welcome!
SHABBAT TORAH STUDY
Saturdays | 11:15am-12:00pm | with BJBE Clergy
Following Kol Shabbat services, join a member of our clergy team for study of parashat ha-shavua, the weekly Torah portion. Our discussion-based text learning incorporates both classical and modern commentaries, as well as the wisdom of our own community members.
No registration needed – drop-ins are always welcome!
BEGINNING CONVERSATIONAL HEBREW
Sundays | 10:00-11:00am | with Ezra Kedar
This class is geared for adults who want to learn the basics of conversational Hebrew. For more information on the class, please contact Ezra Kedar at ezkedar@gmail.com. To register and pay for the course, please reach out to Larisa Rozman at lrozman@bjbe.org.
MONTHLY PROGRAMS AND CLASSES
MEANINGFUL MOMS NIGHT OUT
Tuesday, October 3rd, Wednesday, November 8th, Monday, December 11th | 7:30-9:00pm
Spend an evening caring for yourself the way you care for everyone else. Join Cantor Frost, Susie Wexler, and BJBE friends, old and new, for an inspiring evening of learning and engaging in community. Watch for timely topics and register early. Registration for October 3rd is open below.
SHORT SERIES
JUDAISM'S BEST IDEAS (OR AT LEAST SOME OF THEM!)
Tuesdays | 7:00-8:30pm (10/17, 10/24, 11/7, 11/14) | with Rabbi Goldstein and Rabbi Sherman
Guided by Rabbi Art Green's small and treasured book "Judaism's 10 Best Ideas," we will study some of our people's most essential principles, and discuss how we might integrate those teachings more intentionally into our lives today.
MINDFUL TORAH
Fridays | 8:30-9:30am (10/6, 10/13, 10/20, 10/27, 11/3, 11/10) | with Margot Andersen, MSW, Jewish Mindfulness Teacher
This group of beautiful souls will read and discuss texts from Torah and other sources and explore how these texts affect us today, in this contemporary moment. This is a lovely spiritual practice to enter into Shabbat with guided meditation.
PEACEFUL PARENT PROJECT
OROT, Center for New Jewish Learning
Select Mondays | 7:30-9:00pm (10/16, 10/23, 10/30, 11/6, 11/13)
This special BJBE cohort of Peaceful Parent is open to parents with children ages 12 -18 years and is taught by Rebecca Minkus Lieberman. Each session integrates Jewish wisdom with parenting teachings and mindfulness-based practices. This special program supports parents' efforts to rear their children in compassionate, spiritually-connected, and mindful families. Parents will be given the space to explore who they want to be and support to reshape and deepen their interactions and relationships with their children.
ONE-SESSION PROGRAMS
BJBE FILM SCREENING: THE WALK
Monday October 16 | 7:00pm
The Walk is the story of a Jewish man, Adam Fried, who grew up in Deerfield. He finds himself living in the middle of Germany to be with his only daughter. Every day, he is faced with reminders of the Holocaust as he walks his dog through the city, which was known for antisemitism and was a beehive of Nazi activity during World War 2. It is his fascinating story about re-discovering Jewish roots while making a life changing commitment to fighting antisemitism, wherever it may be.
ARTISTS' BEIT MIDRASH: EXPLORING THE LIGHT OF THE CANDLES THROUGH ART
OROT, Center for New Jewish Learning
Tuesday, November 28 | 7:00-9:00pm
Lighting the candles is the central spiritual practice of Hanukkah, and we can fashion our candle-lighting on Hanukkah based on the many meanings and traditions around light. In this artists' beit midrash, we will explore how artists of all sorts have taken an idea about light and turned it into beautiful works. We will also have a chance to create some of our own artistic interpretations of light.
COMING THIS SPRING:
ADULT B'NEI MITZVAH
This year-long course will meet weekly and is open to all adults, whether or not you celebrated becoming a Bar/Bat Mitzvah. Learn to read Hebrew and chant the basic Shabbat prayers, study the Jewish calendar and holidays, and read and discuss Tanakh together. The class culminates with a group B'nai Mitzvah ceremony. We have not yet established when this new cohort will start – it'll be based on participant interest, so please email Rabbi Goldstein at lgoldstein@bjbe.org for more information.
WATERING THE SPIRIT: A TU B'SHEVAT YOGA WORKSHOP FOR RENEWAL AND GROWTH
OROT, Center for New Jewish Learning
Sunday, February 25 | 9:30-11:30am
In this two-hour workshop with Rebecca Minkus Lieberman, we will integrate a flow yoga practice with nourishing Jewish teachings to get reconnected to the wisdom and strength of our bodies.
JOY AND FREEDOM: THE HEART-OPENING WISDOM OF ADAR AND NISAN
OROT, Center for New Jewish Learning
Tuesdays (4/2, 4/9, 4/16) | 7:30-9:00pm
In this 3-session class with Rebecca Minkus Lieberman, we will study teachings from the Hasidic masters on the spiritual invitations of the Hebrew months of Adar and Nisan and the holidays of Purim and Passover. We will explore how we can bring these teachings on joy and liberation into our daily lives and relationships.
---
Hebrew Classes
Hebrew classes for adults are taught by Ezra Kedar at BJBE. For more information on classes, please contact Ezra Kedar. For information regarding registration and fees, please contact the BJBE office: 847-940-7575.
Beginning Conversational Hebrew
This class is for adults who want to learn the basics of conversational Hebrew.
Advanced Beginning Conversational Hebrew
This class is for adults who have mastered Hebrew reading and are ready to learn how to comfortably carry on a simple Hebrew conversation.
Intermediate Conversational Hebrew
Amaze yourself with how much fun you'll have speaking Hebrew! Prerequisites: Prior knowledge of basic conversational Hebrew and ability to write Hebrew script.
Advanced Conversational Hebrew
This class is for people who can begin to hold a full conversation in Hebrew and who write Hebrew script competently. Prerequisite: Intermediate Conversational Hebrew.