The Jewish Learning Center (JLC) is an innovative and deepened approach to Judaic and Hebrew studies. Using the entire temple campus as an important tool to creating enriching and meaningful study for our students ages kindergarten through 12th grade, a new and exciting curriculum has emerged.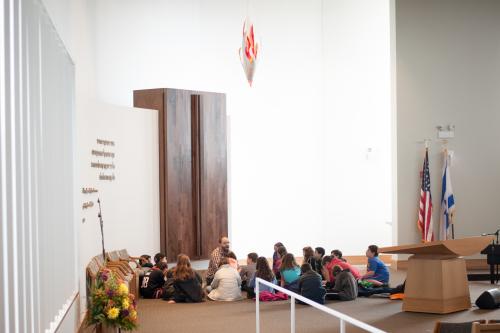 Our curriculum embodies the temple's Five Core Values and the Five Foundations of Jewish Learning as developed by Rabbi Karyn Kedar.
Our Five Core Values are:
Torah (Jewish learning)
Avodah (meaningful workshop and spiritual practice)
G'milut Chasadim (acts of loving kindness)
Kehillah (community)
Israel
The Five Foundations of Jewish Learning are:
Transactional Learning
Transformational Learning
Community
Ethical Living
Joy and Delight
Every lesson and every activity experienced by our students will be based on these Values and Foundations. The integrated Judaic/Hebrew curriculum deepens these experiences.
The learning environment reflects the way our students learn today, and includes individualized learning, independent study, and community learning.
Please feel free to contact Sandy Robbins, Director of Education, with any questions at 847-940-7575.