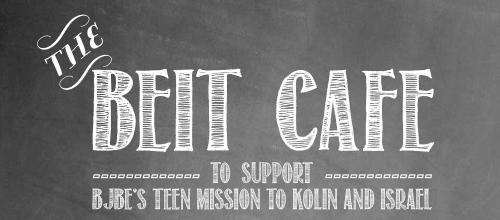 The Beit Cafe will be open on Sundays when JLC is in session from 9:00am-12:30pm.
Every three years, our teens go on a mission to Kolin & Israel. Led by BJBE clergy and staff, we tend to the graves of those who once prayed with our Kolin Torah Scrolls in the Czech Republic, visit Terezin Concentration Camp, and stroll the streets of picturesque Prague. We will then journey home to Israel where we'll savor as much of our beautiful country as possible, from the Knerret in the North, to Masada in the South, and beautiful Jerusalem at the heart.
Your support of the Beit Cafe will help subsidize the cost of the trip for our teens. Thank you!