B'nai Mitzvah studies are encompassed in our rich and diverse nationally recognized B'nai Mitzvah Revolution (BMR) program: Three Portals to Meaning and Purpose.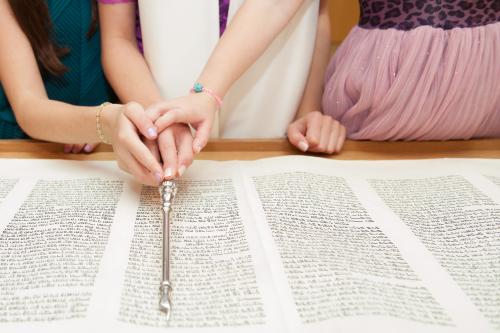 Students and their families choose from three tracks at the end of their 4th grade year.
My Personal Prayer Journey: Torah + Prayer + Creativity
The mission of this portal is to create proficient prayer-participants who will read, connect, and interact with the prayer service and their Torah portion in a way that resonates with their personal interests and passions.
Team Tzedek: The Obligation to Give Away Time, Money and Kindness
The mission of this portal is to create a community committed to improving the world through acts of loving kindness, community service, and advocacy for social change.
My Israel: The Land + Personal Family Experience
The mission of this portal is to cultivate a meaningful personal relationship with Israel's history, culture, and people through traditional and experiential learning, both at home and on the ground in Israel.
For more information about the B'nai Mitzvah Revolution, please contact Missy Bell, Director of Education, at 847-940-7575.