BJBE is committed to meeting the needs of our children of all ages. To keep our tweens and teens engaged with Judaism throughout their middle and high school years, we offer opportunities for sacred friendship, connection, learning, social action, leadership, and fun. While our young adults enjoy these activities with their friends, they strengthen the Jewish identities that will carry them to college and beyond.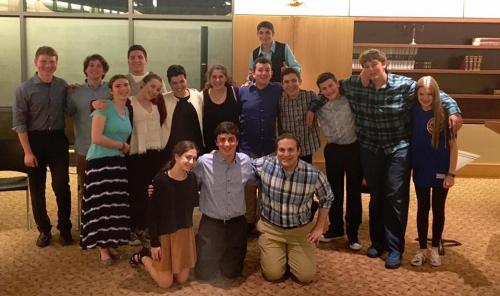 BJBE has 3 youth groups:
SYG (Senior Youth Group) for grades 9-12
Contact: Eddie Simon, SYG Advisor, esimon@bjbe.org
JYG (Junior Youth Group) for grades 6-8
Contact: Eddie Simon, JYG Advisor, esimon@bjbe.org
KYG (K'tanim Youth Group) for grades 3-5
Contact: Lauren Sandoval, KYG Advisor, lsandoval@bjbe.org
NFTY-CAR (National Federation for Temple Youth in the Chicago Area Region)
BJBE is part of NFTY, The National Federation of Temple Youth. NFTY is the Reform Jewish religious youth movement that fosters leadership at the national, regional and congregational levels. NFTY-CAR brings together Reform Jewish high schoolers from the suburbs and surrounding cities of Chicago, as well as northwestern Indiana.