Purim is right around the corner and once again, BJBE will be celebrating in a big way!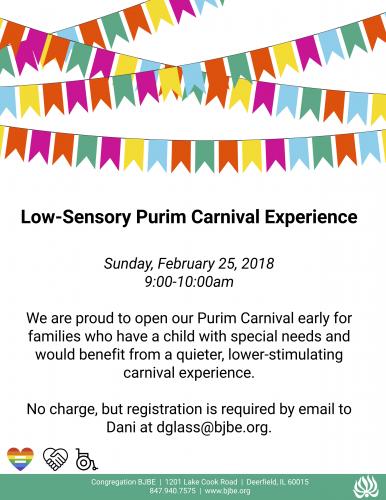 Low-Sensory Purim Experience
Sunday, February 25, 9:00-10:00am
BJBE's Purim Carnival will be open early to provide a time for those with special needs to enjoy the festivities in a quieter, more relaxed environment. Contact Cantor Green with any questions. RSVP to Dani Glass.
Learn more >>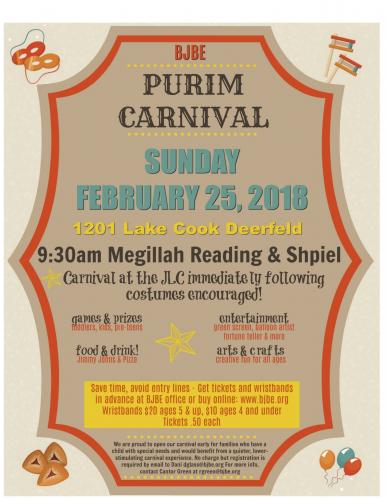 Purim Shpiel, Megillah Reading, & Carnival
Sunday, February 25, 9:30am
Put on your costume and join us for the 11th Annual Purim Megillah Reading, Shpiel and Carnival 2018! Bring an unopened box of pasta to shake as a grogger and then donate it to the food pantry!
Learn more >>
Online Registration is now closed.
Tickets and wristbands can be purchased Sunday morning at BJBE.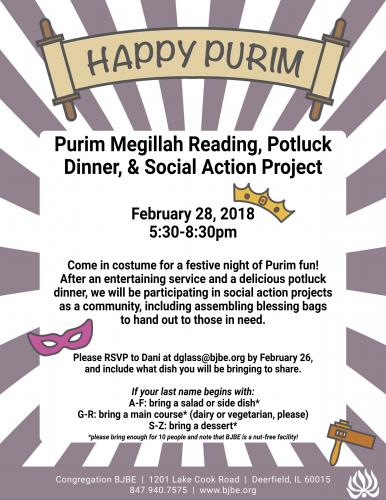 Purim Megillah Reading, Potluck Dinner, & Social Action Project
Wednesday, February 28, 5:30-8:30pm
Come in costume for a festive night of Purim fun! After an entertaining service and delicious potluck dinner, we will be participating in social action projects as a community, including assembling Blessing Bags to distribute to support the work of PADS and Project Nourish. If you are planning to join us for the celebration, please bring some (or many!) of the items we are collecting for the bags:
· New adult-sized socks
· Soft granola bars (like Nutri-Grain bars)
· Band-Aids
· Feminine hygiene products
· Travel-sized toiletries
Please RSVP to Dani Glass by February 26 and include what dish you will be bringing to share.
Learn more >>