What is KYG?
The K'tanim Youth Group (KYG) is an active Jewish community open to all of our fifth and sixth grade students. KYG empowers its members to become leaders both within the synagogue and out in their communities. In addition to our unique to BJBE events, KYG often teams up with other groups in the Chicagoland area to provide our kids the opportunity to engage with as many young Jewish friends as possible.
For more information, contact KYG Advisor Lauren Sandoval: lsandoval@bjbe.org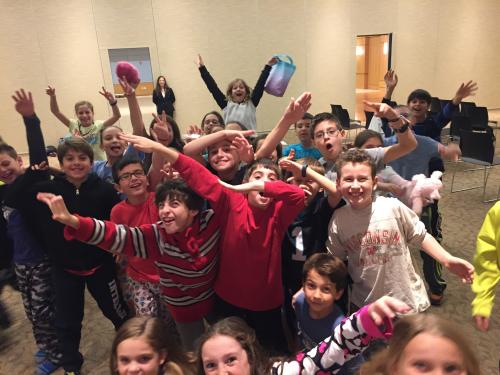 What is JYG?
BJBE is committed to meeting the needs of our children of all ages. To keep our tweens engaged with Judaism throughout their middle school years, we offer opportunities for sacred friendship, connection, learning, social action, leadership, and fun through our Junior Youth Group (JYG). While our young adults enjoy these activities with their friends, they strengthen the Jewish identities that will carry them to college and beyond. 
For more information, contact JYG Advisor Eddie Simon: esimon@bjbe.org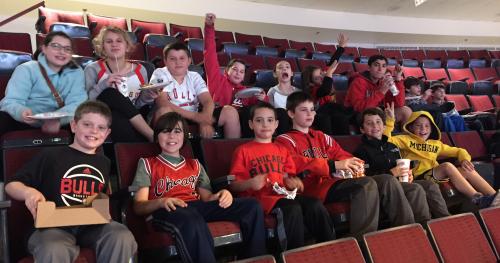 BJBE provides its youth with a variety of youth trip options. Each reflect experiential education at its finest, giving teens a unique new perspective of their Judaism and strengthening their identity as Jews.
ETGAR 36 Teen Civil Rights Journey
Thursday, February 2 – Sunday, February 5, 2017
Join Cantor Rayna Green on a powerful journey through the South this winter. ETGAR 36 is a trip open for 9th, 10th, and 11thgraders. With Judaism as our lens and social justice as our passion, students will learn how African Americans in the 1950s and 60s stood up to gain equality, and they will discover the role that Jews played in the Civil Rights Movement.
During this 4-day learning trip, students will strengthen their Jewish identity as they reflect on the many connections the Jewish people have with the African American community. They will walk away understanding why social justice is such an important value in Reform Judaism, and feeling empowered to make a difference in their home communities. They will also form lasting relationships within the BJBE community, as well as with three other north shore congregations; NSCI (Highland Park), Temple Beth-EL (Northbrook), and Congregation Sukkat Shalom (Wilmette).
On this trip, teens will stand where the civil rights movement all began in Montgomery, Alabama and learn about the Montgomery Bus boycott. They will celebrate Shabbat together at the Edmund Pettus Bridge, the site of the Selma-Montgomery March beatings. They will tour Selma and learn about Rabbi Abraham Joshua Heschel's involvement in the civil rights movement. They will go on a walking tour of Birmingham with a Reverend who was a civil rights worker in the 50s and 60s and was arrested, and so much more!
Contact: Cantor Rayna Green, rgreen@bjbe.org
Information Session: Sunday, September 25, 2016, 1:30 p.m.
Registration Deadline: Monday, October 17, 2016
Jewish Life and G'milut Chasadim Trip to New Orleans
Thursday, March 23 – Sunday, March 26, 2017
Join fellow BJBE congregants in our ninth annual social action mission to New Orleans. We will continue to strengthen interfaith relationships with Christian and Jewish groups in the Crescent City, form new friendships within our BJBE community, and help rebuild communities in need. Together, we will also explore and enjoy the unique city of New Orleans.
Contact: Mike Goldberg, mikegoldberg@mac.com
All Youth Groups Chocolate Seder
Sunday, April 9, 2017
2:00-3:30 p.m. at BJBE
SYG Board Meeting
Wednesday, April 19, 2017
6:30-7:30 p.m. at BJBE
SYG/JYG PADS Volunteering (Grades 8-12)
Sunday, April 23, 2017
5:00-9:00 p.m. at First Presbyterian Church
824 Waukegan Road, Deerfield
RSVP ASAP – spots are limited!
SYG Lounge Night
Wednesday, May 3, 2017
6:30-8:30 p.m. at BJBE
Free Dinner Included!
SYG Comedy Sportz
Saturday, May 6, 2017
5:00-10:30 p.m. in Chicago
SYG Shul-In and Elections/Senior Graduation Party
May 12-13, 2017 at BJBE
7:30 p.m. Friday – 9:00 a.m. Saturday
SYG Board Meeting
Wednesday, May 17, 2017
6:30-7:30 p.m. at BJBE
KYG Matzah Ball Shabbat & Undernighter
Friday, May 19, 2017
5:15-10:00 p.m. at BJBE
What is SYG?
BJBE's Senior Youth Group (SYG) is an active Jewish community open to all of our high school students. SYG empowers its members to become leaders both within the synagogue and out in their communities. Our Senior Youth Group is run almost entirely by an elected board of teenagers. This group of motivated leaders plans, publicizes and executes each event with guidance from our advisor and clergy. 
SYG meets for bi-weekly Lounge Nights (Wednesdays, 6:30-8:30PM), monthly events, and an annual weekend retreat at OSRUI where we learn, grow and have fun together as a chevra. We are also members of NFTY-CAR region where we are working on increasing our presence. Senior Youth Group is a great opportunity for the teenagers of BJBE to continue to explore their Jewish identities in a fun and supportive environment. 
2016-2017 Senior Youth Group President, Benjamin Bluman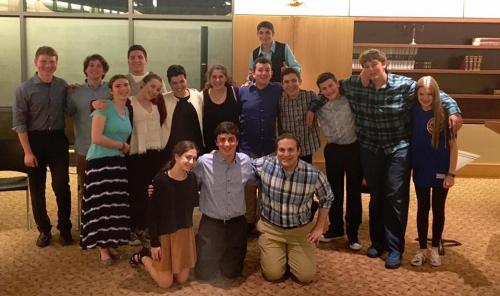 Find us on Facebook!

You can always get more information and talk with your Youth Group friends on their Facebook page at  https://www.facebook.com/groups/BJBESYG/.
Teen Leadership
Besides having fun leading their friends in SYG and NFTY elected positions or in social action leadership roles, kids who participate in BJBE activities gain a valuable addition to college application forms. Additionally, impressive and meaningful opportunities are available for our teens to develop their leadership skills as teacher assistants (Machonikim) or as mentors.