The BJBE Israel Committee presents programs and activities to promote the BJBE community's knowledge, awareness, and support of the State of Israel.  The committee works with congregants who seek to travel to Israel for various reasons, including tourists, students, and volunteers. For further information contact Israel Committee chair Marla Goldberg.
Hebrew classes for adults are taught by Ezra Kedar at BJBE. For a list of schedules and fees, please contact the temple office: 847-940-7575.
Advanced Beginning Conversational Hebrew
This class is for adults who have mastered Hebrew reading and are ready to learn how to comfortably carry on a simple Hebrew conversation.
Intermediate Conversational Hebrew
Amaze yourself with how much fun you'll have speaking Hebrew! Prerequisites: Prior knowledge of basic conversational Hebrew and ability to write Hebrew script.
Advanced Conversational Hebrew
This class is for people who can begin to hold a full conversation in Hebrew and who write Hebrew script competently. Prerequisite: Intermediate Conversational Hebrew.
Family Trip to Israel
December 2017
What a wonderful opportunity to build memories. Under the guidance of Rabbi Karyn and Ezra Kedar you will see Israel through not just your own eyes, but also through the eyes of your children and grandchildren. This trip is designed for first-time visitors to Israel as well as children. Special activities will be planned for the younger children when a particular visit is not appropriate.
Click here to download the flyer.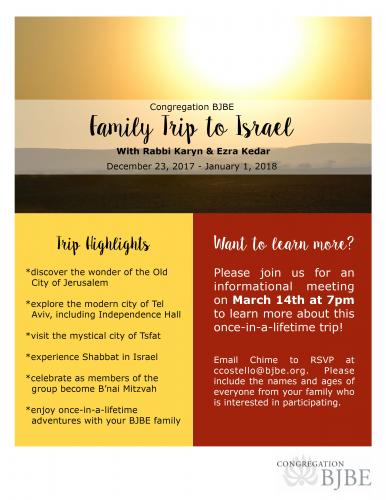 Yom Ha'atzmaut Shabbat Service: Celebrating Israel's Independence
Friday, April 28, 2017, 7:30 p.m.
The modern state of Israel is a miracle. Our festive celebration in honor of Israel's independence will continue after Shabbat services.
AIPAC Policy Conference in Washington, D.C.
March 26-28, 2017
Join Rabbi Kedar and a delegation of BJBE congregants for three days of confirming the support and connection between The United States and Israel at the American Israel Public Affairs Committee Annual Conference. Over 13,000 people are expected to be at the conference. We will hear from leading U.S and Israeli officials as well as from many experts in international relations. We will also have the opportunity to meet with Senators and members of the House of Representatives.
Contact: Howard Schneider, howardschneider@sbcglobal.net
ARZA: The Association of Reform Zionists of America
ARZA enriches the Jewish identity of Reform Jews in America by ensuring that a connection with Israel is a fundamental part of that identity. Its mission includes support and advocacy for a Jewish, pluralistic, just and democratic society in the State of Israel.
Contact: Doris Schyman, dschyman@gmail.com and Lynn Wax, waxlynn@gmail.com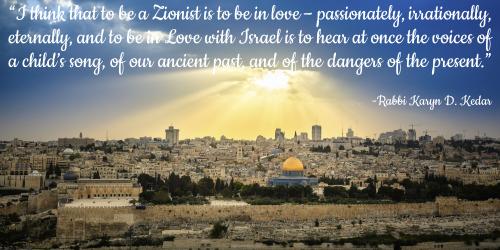 At BJBE, Israel is not simply a committee or program; it is a core value. We express this through our commitment to educational symposiums, cultural events, a robust Hebrew curriculum for adults, and yearly congregational trips to Israel. We offer both adult and family trips, as well as a biennial pilgrimage to Kolin, Czech Republic, birthplace of one of our Holocaust Torah scrolls. BJBE is proud to partner with such organizations as Jewish National Fund (JNF), Association of Reform Zionists of America (ARZA), and American Israel Public Affairs Committee (AIPAC).
Upcoming Trips:
Family Israel Trip - December 23rd, 2017-January 1st, 2018
Youth Kolin & Israel Trip - June 18th-July 1st, 2018