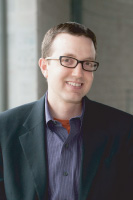 Cantor Ross Wolman is an exciting young cantor, master teacher, talented musician and he has a warm and open personality. Cantor Wolman currently serves as president of the Reform Cantors of Chicago and has been singing and teaching at with OSRUI since the summer of 2001. In addition to his congregational work, Cantor Wolman has been an active leader and organizer of the Riding4Reform cycling fundraiser benefitting the Israel Movement for Progressive Judaism.
Cantor Wolman began his tenure as BJBE's first Assistant Cantor on July 1, 2011. Since his ordination from The Debbie Friedman School of Sacred Music at The Hebrew Union College-Jewish Institute of Religion in 2007, Cantor Wolman served Congregation Sukkat Shalom in Wilmette, Illinois.
Cantor Wolman is originally from Lancaster, Pennsylvania. He graduated from Temple University with a BMus in Music Education. Along with his passion for music, he has a strong love for film, cooking, education, Israel, and the Hebrew language. Cantor Wolman lives in Chicago with his wife, Malka, and their three children.
Email Cantor Wolman: rwolman@bjbe.org
Follow Cantor Wolman on Twitter @rosswolman