What is SYG?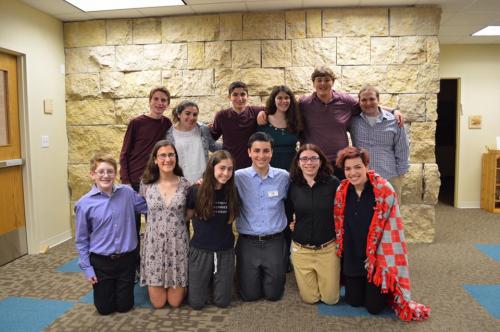 BJBE's Senior Youth Group (SYG) is an active Jewish community open to all of our high school students. SYG empowers its members to become leaders both within the synagogue and out in their communities. Our Senior Youth Group is run almost entirely by an elected board of teenagers. This group of motivated leaders plans, publicizes and executes each event with guidance from our advisor and clergy.
SYG meets for bi-weekly Lounge Nights (Wednesdays, 6:30-8:30PM), monthly events, and an annual weekend retreat at OSRUI where we learn, grow and have fun together as a chevra. We are also members of NFTY-CAR region where we are working on increasing our presence. Senior Youth Group is a great opportunity for the teenagers of BJBE to continue to explore their Jewish identities in a fun and supportive environment.
2017-2018 SYG Board
President: Benjamin Bluman & Emma Rosenberg-Rappin
Programing Vice President: Melanie Silver
Social Action Vice President: Abby Tzinberg
Religious and Cultural Vice President: Jeremy Stein
Membership Vice President: Madison Kaiz & Matthew Koss
Treasurer: Grant Fisher
Communications Vice President: Jon Olbur
Sophomore Representatives: Liza Bluman, Hailey Cooper, & Lisa Silverstein
Freshman Representative: Josh Ostach
Find us on Facebook!
You can always get more information and talk with your Youth Group friends on their Facebook page at https://www.facebook.com/groups/BJBESYG/.
Teen Leadership
Besides having fun leading their friends in SYG and NFTY elected positions or in social action leadership roles, kids who participate in BJBE activities gain a valuable addition to college application forms. Additionally, impressive and meaningful opportunities are available for our teens to develop their leadership skills as teacher assistants (Machonikim) or as mentors.