BJBE Integrated Library
Jews are known as "People of the Book." BJBE's integrated library embodies this concept by offering materials on the subjects that bring meaning and purpose into our lives: worship, holidays, life cycle events, family issues, spirituality, Torah, Israel, ethics, biography, fiction, and more. But while traditional libraries have a dedicated room for locating, enjoying, and checking out books and other materials, at BJBE we are bringing the books to our congregants and guests through bookshelves and displays in the heart of our synagogue — the Village Center. Sacred books and prayer books are housed in our Chapel.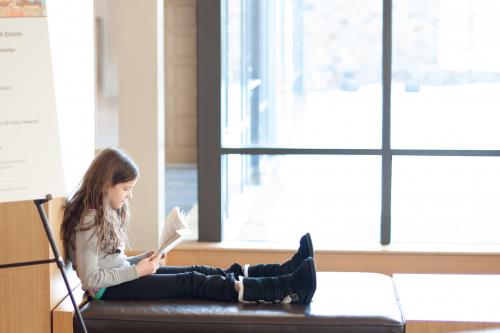 Searching for library books
A list of books currently available can be accessed through our Online Catalog. You will see "Welcome to BJBE Congregational Library."Click on "BJBE Library Collection." Type a subject, author, or title in the search screen. The subject and call number (where the book is located) will appear under the title. Click on the title to see summaries and other information for that title (where available).
Checking out and returning books
Currently, books can be checked out by members in the Book Checkout notebook on the middle shelf of the Village Center bookcases. Please follow instructions inside the notebook. Books may be returned to the office after writing the date of return in the Book Checkout notebook.
Library Subjects and Call Numbers
BJBE Subjects - Alphabetical
Places to Donate Your General and Judaica Books and AV Materials
BJBE library books are purchased from Follett Resources by librarian and volunteer Shelley Riskin. They are new and arrive already cataloged, needing minimal processing. Although space is limited, we do accept some "like-new" donations--please contact Shelley via email or at 847-767-7419. Click here for a list of places that would welcome your books.